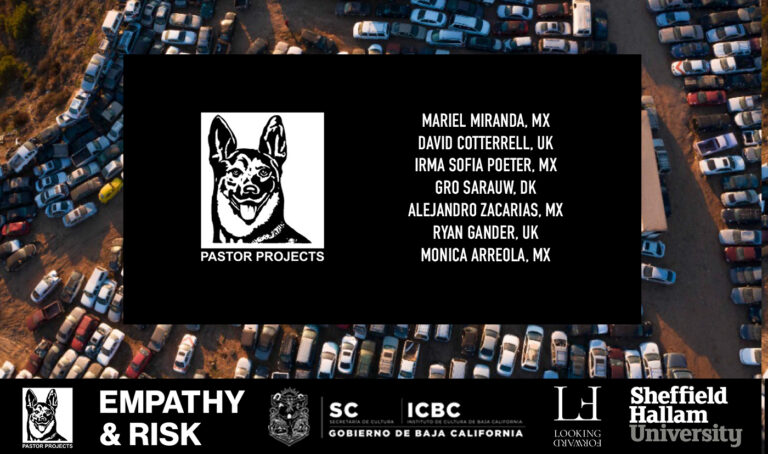 Dear Aliens, We Are Ready is an adventurous multi-modality show and a laboratory that offers a catalogue of possible practices to take us into deep space, far beyond our pandemic, isolated selves, while pointing towards new ways to engage with sites, non-sites, the digital and the global. 
The project starts from Tecate, which – with its holy mountain, Cuchumá – is a spiritual adjunct and a portal to Tijuana's stern, fluid, industrious locality. From these lands, in the current atmosphere of crisis, due to a heightened distrust in human affairs, nature has beamed a rescue signal to the Outer Space hoping that aliens can come to Earth and fix things. The artists involved in the project employ a mix of paradoxical investigation and sober surrealism in order to establish links of communication between living creatures, inanimate beings, and extraterrestrials in the big void. 
Out of metaphor, the project explores the limitation of international understanding that can be reinforced through distance. In particular, it opens a dialogue between a yet unexplored border comparison: Mexico and post-Brexit UK. Contemporary visual art practices based either in Baja California, Europe, and the UK are brought into a geopolitical framework that defines dichotomic relations deeply ingrained into dynamics of power. The idea of distance, alienation, and virtuality is applied to unmask the dialectical and ideological agenda for competition and hegemony that is leading to a dramatic amplification of the cliché of national identity, paranoia for safety narratives, and polarising inequalities.
The Program
The exhibition (9th April – 20th June, 2021), curated by PASTOR PROJECTS, at the Galeria de la Ciudad, Tecate includes new and existing works by the artists: MARIEL MIRANDA (MX), DAVID COTTERRELL (UK), IRMA SOFÍA POETER (MX), GRO SARAUW (DK), ALEJANDRO ZACARIAS (MX), RYAN GANDER (UK), MÓNICA ARREOLA (MX).
To coincide with the exhibition, the director of Pastor Projects and curator of the show, Thomas Vann-Altheimer, with the support of LOOKING FORWARD and Empathy & Risk, will be in conversation with the artists for video interviews to be premiered during online live events in the second half of April 2021. The public programme will offer insights on the practice of the seven artists involved in the show.
In June 2021, Empathy & Risk, with the support of Sheffield Hallam University and the Global Challenge Research Fund will curate a three-part symposium, THE OTHER Dialogues, articulating inter-disciplinary debate exploring the limitation of international understanding that can be reinforced through distance. The three parts will relate to the topics of nationalism, labour, and gentrification. A press release with the program of the symposium and registration modalities will follow separately.
Images from the exhibition, critical texts, and contributions from THE OTHER Dialogues interdisciplinary symposium will be collated in a book published by Abismos Editorial & Empathy & Risk, edited by Carolina Lio and Sidharta Ochoa.
Credits
Artists: MARIEL MIRANDA (MX), DAVID COTTERRELL (UK), IRMA SOFÍA POETER (MX), GRO SARAUW (DK), ALEJANDRO ZACARIAS (MX), RYAN GANDER (UK), MÓNICA ARREOLA (MX)
Curator: PASTOR PROJECTS
Public programme curated by: EMPATHY & RISK and LOOKING FORWARD