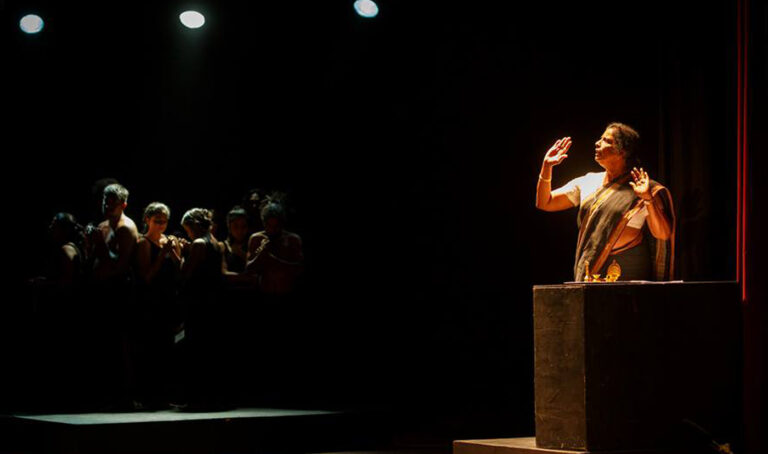 There is a sustained silence around the turbulent and violent recent history of Sri Lanka – silence that is maintained in the education system, within families and between generations.
SUMMARY
'Dear Children, Sincerely… a conversation across generations' – is a theatre performance and research project, through which in-depth conversations with the elders of Sri Lankan society were conducted. The material of these conversations were then used to create short performance pieces for young audiences on the journey of Sri Lanka since Independence in 1948.'
The DCS project grew through the in-depth interviews of almost 80 senior citizens within Sri Lanka and within the Diaspora as well.  It simultaneously expanded to include conversations with this generation in other countries as well – chief amongst them, Rwanda.  Several plays were created and performed out of this research project.
The Documentation of the DCS project is currently underway by the artists of Stages Theatre Group and an education resource pack is being produced with the support of GIZ.
The DCS project, through its research and through its performance, aimed to address several silences in Sri Lankan society.
Primarily it sought to address the silencing of diverse historical narratives by interviewing a cross-section of seniors across ethnicity, class, political affiliation, gender, and geography about their memories and experiences of the same key historical events.
It also sought to address the silence within the school and education system where the teaching of history stops soon after Independence – creating a generation of youth who have not been taught critical events of the country's history.
The DCS project also aimed at archiving and documenting the narratives and research already collected from our interviewees.
The project further addressed the silences across generations. As the output of the research was theatre performances, families watched these events together.  The intention was to encourage young audience members to initiate their own conversations with their grandparents, or elders in their community to create an intergenerational dialogue that would enlighten them more about the past, promote cultural memory and reconciliation.
Credits
Project lead: Ruwanthie de Chickera. Project Manager: Piumi Wijesundara