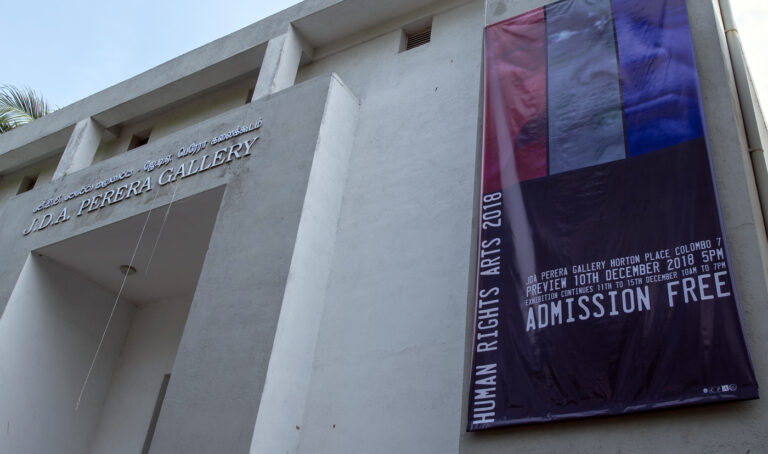 Human Rights Arts 2018 was curated as an artistic response to an extraordinary ongoing political crisis in Sri Lanka.  Human Rights Arts 2018 opened on the 10th of December in order to commemorate the 70th Anniversary of the Universal Declaration of Human Rights.  The festival was an honouring of this global milestone and also a celebration of the wave of citizen rights initiatives taking place within Sri Lanka in response to the 52-day political coup.
Human Rights Arts 2018 was an exhibition and a series of surrounding events created for people to gather, to reflect on and to share the creativity, knowledge and collective power of citizens' movements that work towards achieving human dignity, democracy, justice and rights.
Chandraguptha Thenuwara initiated the Human Rights Arts Festival for the first time in Sri Lanka in 2017.  For the second edition of this festival in 2018 Empathy & Risk were invited to co-curate the exhibition and associated programmes. The exhibition held the contemporary work of Chandragupta Thenuwara, Senaka Weeraman, David Cotterrell and Ruwanthie de Chickera.  These works were offered as invitations for debate and the gallery was offered as a forum to be claimed and occupied.
The programme during the exhibition created a platform for the growing national culture of citizen protest in Sri Lanka, providing spaces to host impromptu responses and considered reflections on the wider political crisis.  The artwork itself, responsive to the surrounding political situation, formed the backdrop for reflective conversations on the culture and history of citizen protests in Sri Lanka.
Credits
Curators: David Cotterrell & Chandragupta Thenuwara
Artists: David Cotterrell, Chandragupta Thenuwara, Ruwanthie de Chickera, Senaka Weeraman.