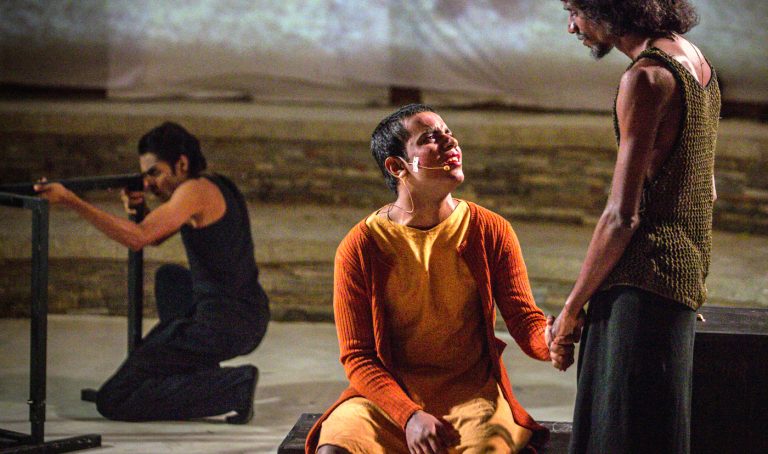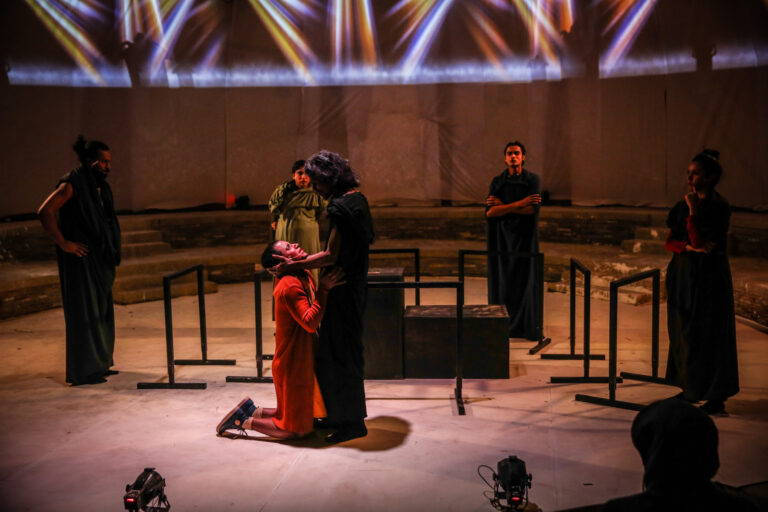 Thought Curfew is a lyrical performance which explores the manner in which entire communities of people can be rendered unthinking in a moment. Thought Curfew addresses the outbreak of sudden and widespread violence and examines the individuals' negotiation with fast spreading senselessness.
A little girl, chased by her father, runs away from a growing wave of people who have succumbed to a fast-spreading thought curfew.
The play follows the journey of a little girl, from her home to the edge of her world, as she flees to escape the suspected invisible creep of a Thought Curfew. The little girl is told to run from the first hints of contagion which appear in her family.  She escapes out of her world and flees to different worlds – the world of Refugees, the world of Development Aid, the world of the Military and finally the world of Religion.  In all these worlds she witnesses the gradual escalation of the effects of non-thinkingness. The little girl is running away from the thought curfew, but the little girl is only small, so she does not know that the world is round – and soon enough the spreading thought curfew and its unthinking people will surround her.
Thought Curfew is performed by an ensemble of six actors.  It is a collaboration of live performance with visual animation. It was first performed at the Kigali Genocide Memorial Amphitheatre, as part of the Ubumuntu Festival of Humanity, July 2018.
Thought Curfew was funded by the Arts and Design Research Centre of Sheffield Hallam University and the Empathy and Risk Inquiry.  It was staged with the support of the Ubumuntu Festival and Mashrika Performing Arts and Media Company.
Credits
Created by: David Cotterrell & Ruwanthie de Chickera
Co-Director/Designer: David Cotterrell
Co-Director/Writer: Ruwanthie de Chickera
Sound Artists/Composers: John Avery & Ron Wright
3d Artists/Animator: Ian Sanders
Photographer: Prauda Buwaneka
Actor/Assistant Producer: Piumi Wijesundara
Actor/Stage Manager: Pramila Samarakoon
Actor/Rehearsal Manager: Akalanka Prabhashwars
Actor/Production Assistant/Makeup: Indika Lakmal
Actor/Crew: Sanjeewa Upendra
Actor/Crew: Duminda Sandaruwan
Production Coordinator (Festival): Innocent Munyashuri
Set Construction/Cast Care/Costumes: Jayampathi Guruge
Costumes/Cast care/Production Assistant: Dinushika Seneviratne
Video-Documentation/Production Assistant: Biyanka Amarasinghe
Production Assistant: Sanjaya Eknaligoda
Set Construction (Festival): Kubwimana Djuma
Subtitles/Production Assistant: Amanzi Ndoli Yannick Nicholas
Lights Operator: Megan Lang
Video-Documentation: Malith Hagoda
Digital Editing: Lasantha & Rajitha
Script Translation: Nadie Kammallaweera
Script Development: Dilrukshi Fonseka
Devising Team – Sri Lanka: Pathum, Kanchana, Nadie & Dulanja